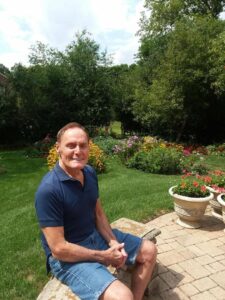 Ron was born in 1939, at the end of the Great Depression and before the Second World War began in Europe. Ron grew up with his two sisters and brother on a 200-acre tenant farm in Big Rock Township in Kane County in northern Illinois. The farm included a wooded valley through which an ordinarily lazy but sometimes turbulent creek flowed.
The photograph above was taken by his younger sister Beverly in his brother Ken's garden on August 19, 2019, when he was 80 years old. His older sister, Joan, has passed.
Ron graduated from Big Rock Elementary School in 1953, Big Rock High School in 1957, the University of Illinois at Champaign-Urbana in 1961, and Harvard Law School in 1964. After he finished his formal education, he moved to Chicago, where he has lived ever since.
He worked as a lawyer for 37 years, mostly representing persons who couldn't afford to pay for legal assistance. He was happiest during his last six years when he toiled as an assistant public guardian in the Cook County Public Guardian's office, representing abused, neglected and dependent children. Ron was one of the founders of the Lesbian and Gay Bar Association of Chicago.
Ron enrolled in the NIH-funded Multicenter AIDS Cohort Study (MACS) when it began in 1984. Every six months participants provided biological materials, including numerous vials of blood, and behavioral data. The study has continued since 2019 after merging with the Women's Interagency HIV Study. Ron hasn't missed a visit in the 39-year life of the study.
After Ron retired in 2001, he began writing novels. He published his first, Promised Valley Rebellion, on October 19, 2010, when he was 71. He published his eleventh, Murder Garden, on January 4, 2023, when he was 83.
On January 28, 1976, Ron met David Darling. On May 1, 1977, they commenced living together. On July 6, 2011, they entered an Illinois civil union. They haven't converted their civil union to a marriage only because it would've been costly for them under the federal income tax laws, and they would've gained no rights under the laws of the state of Illinois they don't already have. In any event, they still live together in Chicago, caring for one another in their old age.
Ron invites readers to contact him at [email protected].