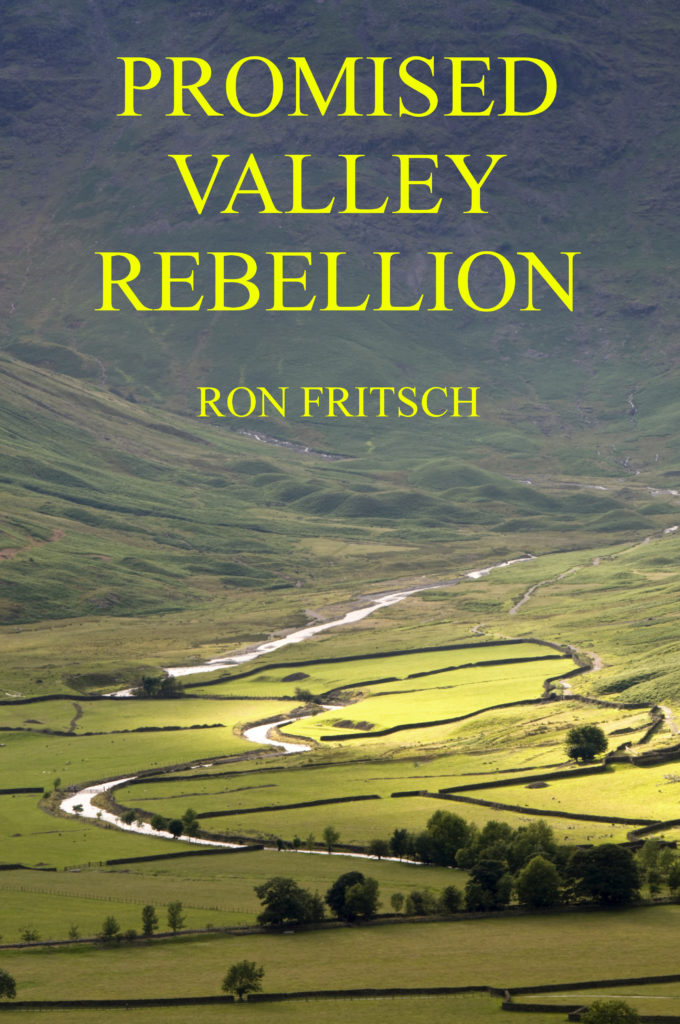 Promised Valley Rebellion, the first book in the Promised Valley series of four novels by Ron Fritsch, is a story of forbidden love. The farmers' king refuses to allow the marriage of the coming-of-age prince to the daughter of the farmer who saved the king's life in the last war with the hunters. Her brother decides he has to help his sister and the prince, his boyhood friend, correct the flagrant injustice.
That decision leads them and their allies into a youthful rebellion against the king and his officials, who rule the kingdom from their bluff-top town. The far more numerous farmers in the villages below, who despise the officials but not the king, and who admire the prince, are in a position to determine whether the rebels will succeed or face execution for treason.
Reviews (clicking on the review website will take you to the full review):
Kirkus Reviews: "The story is very likely as old as human civilization. . . . [It] encourages the reader to ponder the universal elements of the tale. . . . A strange, primitive world that feels winningly real."
Feathered Quill Book Reviews: "[Promised Valley Rebellion] explores human differences in many forms—physical, psychological, and cultural—with keen insight and tasteful honesty. Fritsch develops his characters with sensitivity and depth, and their youthful optimism and enthusiasm ring so genuine that only the most cold-hearted reader could resist rooting for them. Shining through the simple but expressive prose is an underlying affection for the human condition: vulnerable, frequently confused, but always capable of great heroism and love. This is ambitious fiction, at once entertaining and bursting with thought-provoking allegory."
The US Review of Books: "Fritsch's is a good tale that feels real, with a strong promise and a good twist at the end. . . . A good book to read by the fire in wintertime, Fritsch presents us with a primitive society, in the manner of Jean Auel's books, but with much more compassionate characters."
Reader Views: "You'll enjoy [Promised Valley Rebellion] if you like in-depth characters, a mystery that's not easily solved, and a subtle twist that could change everything."
Promised Valley Rebellion was the winner of the gold medal in the Literary Fiction category of the 2010 eLit Awards competition, the first-place winner in the Gay and Lesbian and Transgender Fiction category of the 2011 National Indie Excellence Awards competition, and the winner of the silver medal in the Historical Fiction category, as well as a finalist in the General Fiction category, of the 2011 Readers Favorite Awards competition.